Zig Zag Seam – (With Hook)

–

Zig zag seam is worked on the right side of the pieces. You can use either matching or contrast color yarn. It is a personal choice.

As the name suggests, the appearance of the seam between the 2 pieces runs like zig zag. It adds a little space between the pieces. Either a matching yarn or a contrast color would look nice in this seam.

Step#1 Join the yarn with Slip Stitch in the corner space of piece#1. and CH3.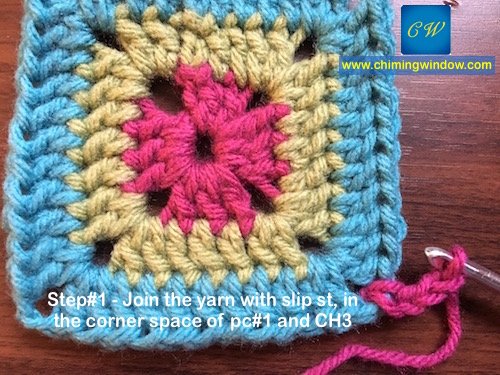 Step#2 Insert the hook in the corner space of piece#2 and make a Slip Stitch. CH3.
Step#3 Skip next stitch in piece#1 and insert the hook in the next stitch. Make Slip Stitch and CH3.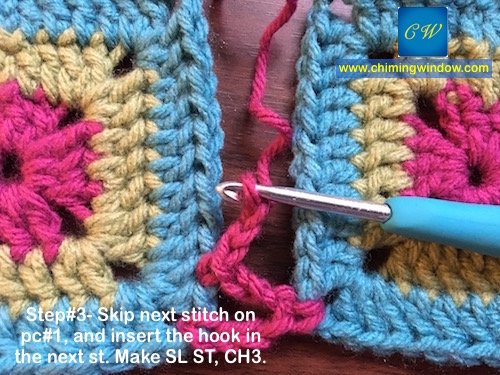 Step#4 Repeat step#3 till the end.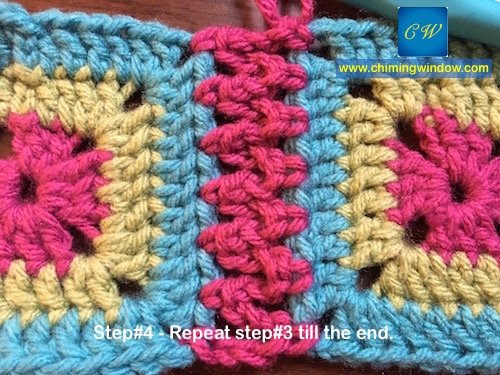 To join piece#3 and piece#4, continue the seam straight without any break. Place piece#3 and piece#4 on top and carry on with the zig zag seam between the pieces.
Once you have reached desired length of the project. Start the horizontal seams. At the corner joints, keep the stitch under the first seam and take it across.
Refer the below image for better understanding on this.
 
For more seams, click on the following links –
SEAMS WITH NEEDLE –
http://chimingwindow.net/whip-stitch-seam-seams1-crochet13/
http://chimingwindow.net/back-loop-seam-seams2-crochet14/
http://chimingwindow.net/back-stitch-seam-seams3-crochet15/
http://chimingwindow.net/chain-stitch-seam-seams4-crochet16/
http://chimingwindow.net/mattress-seam-seams5-crochet17/
http://chimingwindow.net/skip-stitch-seam-seams6-crochet18/
http://chimingwindow.net/woven-seam-seams7-crochet19/
SEAMS WITH HOOK –
http://chimingwindow.net/sl-st-seam-slip-stitch-seams8-crochet20/
http://chimingwindow.net/sc-seam-seams9-crochet21/
http://chimingwindow.net/sc-ch-seam-seams10-crochet22/
http://chimingwindow.net/alternating-sl-st-seams-11-crochet23/
http://chimingwindow.net/flat-zipper-seam-seams-12-crochet24/
http://chimingwindow.net/cable-stitch-seam-seams13-crochet25/
http://chimingwindow.net/join-along-seam-seams14-crochet26/
http://chimingwindow.net/simulated-braid-seam-seams15-crochet27/ 
http://chimingwindow.net/dc-braid-seam-seams16-crochet28/
http://chimingwindow.net/flat-braid-seam-seams17-crochet29/
http://chimingwindow.net/tight-braid-seam-seams18-crochet30/
http://chimingwindow.net/scallops-seam-seams19-crochet31/
http://chimingwindow.net/lace-seam-seams20-crochet32/
http://chimingwindow.net/continuous-join-cluster-seams21-crochet33/
http://chimingwindow.net/dc-2-together-seam-seams22-crochet34/