JOIN AS YOU GO – (With Hook) 
Join as you go seam, as the name suggest, is worked while working on the pieces. Pieces are joined in the process itself.  It adds little space between the 2 pieces.  This seam is worked from the right side, which makes is decorative as well as functional seam.
Piece#1 – Join yarn in the corner with 1SC, CH3, 1SC in the corner. *CH2, skip 2 STS, make 1SC in each of next 2 STS.* Repeat * * all around. Corner stitches will have 1SC, CH3, 1SC. 
Piece#2 – Work stitches as in piece#1 on 3 sides. Stop at the corner stitch, Make 1SC, CH1, pull the hook out an insert in the corner ch3 space of piece#1. Pull the loop and make SL ST, CH1. Make 1SC in the corner of piece#2. CH2, Skip 2, make 1SC in each of next 2 its, CH1. *CH1, Pull the hook out, insert in the ch2 space of piece #1, make SL ST, 1SC in each of the 2 corresponding stitches of piece#2.* Repeat till the end.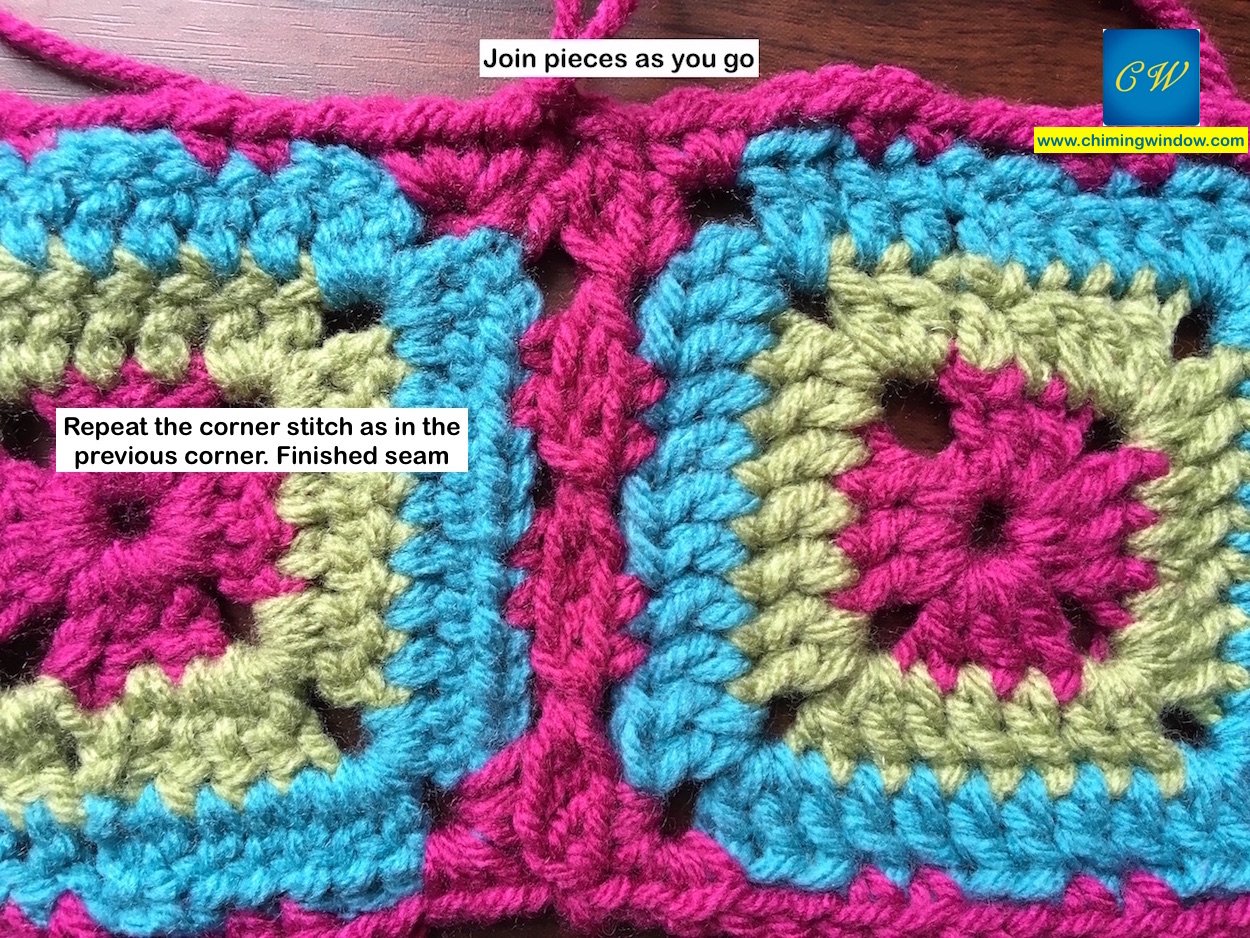 To join piece #3 – Work 3 sides as in piece#2 and join with the corresponding side of the other piece.
To join piece#4 – Work 2 sides, and join similarly to the corresponding sides of the other 2 pieces.
For more seams, click on the following links –
SEAMS WITH NEEDLE –
http://chimingwindow.net/whip-stitch-seam-seams1-crochet13/
http://chimingwindow.net/back-loop-seam-seams2-crochet14/
http://chimingwindow.net/back-stitch-seam-seams3-crochet15/
http://chimingwindow.net/chain-stitch-seam-seams4-crochet16/
http://chimingwindow.net/mattress-seam-seams5-crochet17/
http://chimingwindow.net/skip-stitch-seam-seams6-crochet18/
http://chimingwindow.net/woven-seam-seams7-crochet19/
SEAMS WITH HOOK –
http://chimingwindow.net/sl-st-seam-slip-stitch-seams8-crochet20/
http://chimingwindow.net/sc-seam-seams9-crochet21/
http://chimingwindow.net/sc-ch-seam-seams10-crochet22/
http://chimingwindow.net/alternating-sl-st-seams-11-crochet23/
http://chimingwindow.net/flat-zipper-seam-seams-12-crochet24/
http://chimingwindow.net/cable-stitch-seam-seams13-crochet25/
http://chimingwindow.net/join-along-seam-seams14-crochet26/
http://chimingwindow.net/simulated-braid-seam-seams15-crochet27/
http://chimingwindow.net/dc-braid-seam-seams16-crochet28/
http://chimingwindow.net/flat-braid-seam-seams17-crochet29/
http://chimingwindow.net/tight-braid-seam-seams18-crochet30/
http://chimingwindow.net/scallops-seam-seams19-crochet31/
http://chimingwindow.net/lace-seam-seams20-crochet32/
http://chimingwindow.net/continuous-join-cluster-seams21-crochet33/
http://chimingwindow.net/dc-2-together-seam-seams22-crochet34/