ALTERNATING SLIP STITCH SEAM

– (With Hook)

Alternating SL ST seam gives much flatter effect and more stretch than SC seam. This is worked on the wrong side of the pieces.

Stitch by Stitch – Align the pieces with each other on a flat surface with the wrong side facing upward. Work a slip stitch at the bottom corner of the right hand piece, then work another in the corresponding stitch on the left hand piece. The seam will have criss cross effect of the slip stitch. Continue to work slip stitches along the edges, alternating from side to side.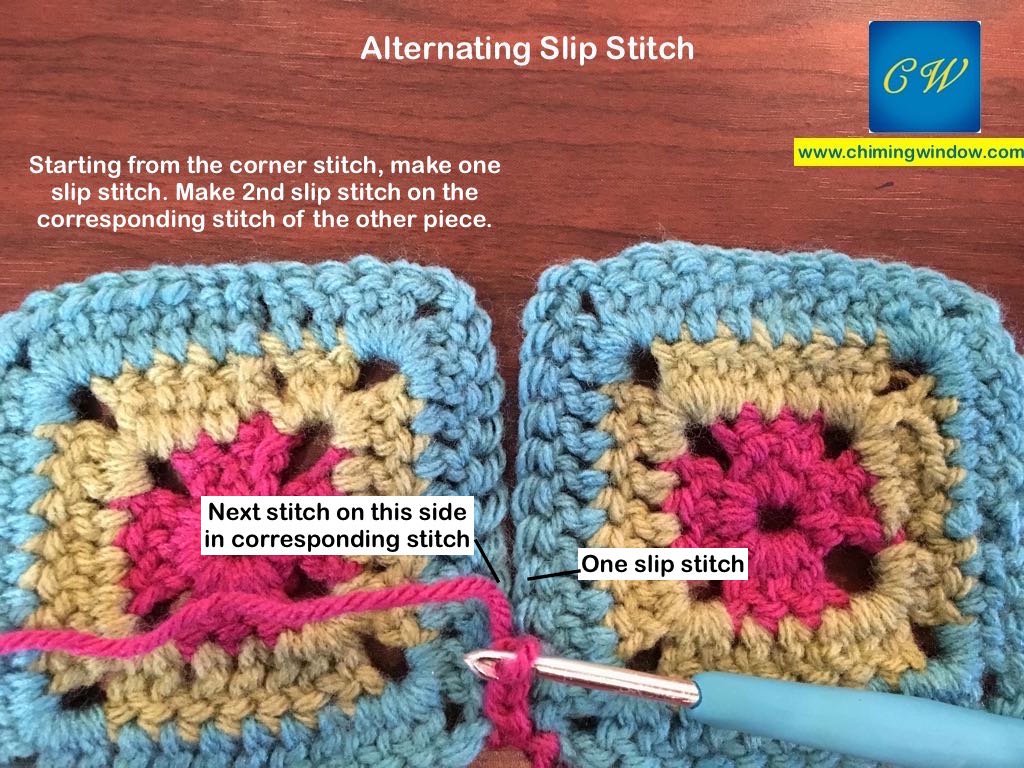 Row by Row – To work this seam row by row, match the rows of the two pieces and pin them together to keep it in place. work the slip stitches through the 'last stitch' of the row of each piece. Follow the steps of alternating the slip stitch from side to side.
Alternating SL ST can be used as both functional and decorative seam. This is a variation of slip stitch. Instead of straight slip stitch, it appears with a criss cross.
To learn all the other seams, click on the below links
SEAMS WITH NEEDLE –
http://chimingwindow.net/whip-stitch-seam-seams1-crochet13/
http://chimingwindow.net/back-loop-seam-seams2-crochet14/
http://chimingwindow.net/back-stitch-seam-seams3-crochet15/
http://chimingwindow.net/chain-stitch-seam-seams4-crochet16/
http://chimingwindow.net/mattress-seam-seams5-crochet17/
http://chimingwindow.net/skip-stitch-seam-seams6-crochet18/
http://chimingwindow.net/woven-seam-seams7-crochet19/
SEAMS WITH HOOK –
http://chimingwindow.net/sl-st-seam-slip-stitch-seams8-crochet20/
http://chimingwindow.net/sc-seam-seams9-crochet21/