CONTINUOUS JOIN CLUSTER –

(With hook)

Continuous join cluster has flat appearance after completion. It goes very well with the afghans and blanket projects. It is worked on the right side of the pieces.

3DCCL – In this seam, 3DCCL (3 Double crochet cluster ) stitch is used. Work each of the 3 DC half way (don't finish DC). In the end you have 4 loops on the hook. Pull the yarn through all the 4 loops together.

PIECE#1

Round#1 – Join yarn in one corner with slip stitch, *CH3, 1SC* in the same corner.  *CH2, skip 2 STS, 1SC in next ST.

* Repeat * * on all the 4 sides. (Corners – 1SC, CH3, 1SC) Repeat in the corners.  Join with slip stitch on top of the CH3.

Round#2 – CH3, 2DCcl, CH3, 3DCcl in the corner CH3 space. (CH1, skip 1 ST, 3DCcl in next CH2 space) Repeat on all the sides. (Corners – 3DCcl, CH3, 3DCcl ) Repeat in all the corners. Join with Slip Stitch on top of the CH3. 
On piece #2, work round #1 on all 4 sides and round #2 on 3 sides. Stop at the corner stitch with 3DCcl and CH1 and pull the hook out. Insert the hook in the corner CH3 space of piece#1 and pull the loop through. Refer below image. Make a SL ST and CH1. 
Make 3DCcl in the corner CH3 space of piece#2. Pull the hook out and insert in the ch2 space of piece#1. Pull the loop and make SL ST, CH1. Make 3DCcl in the CH2 space of piece#2. Continue till the end.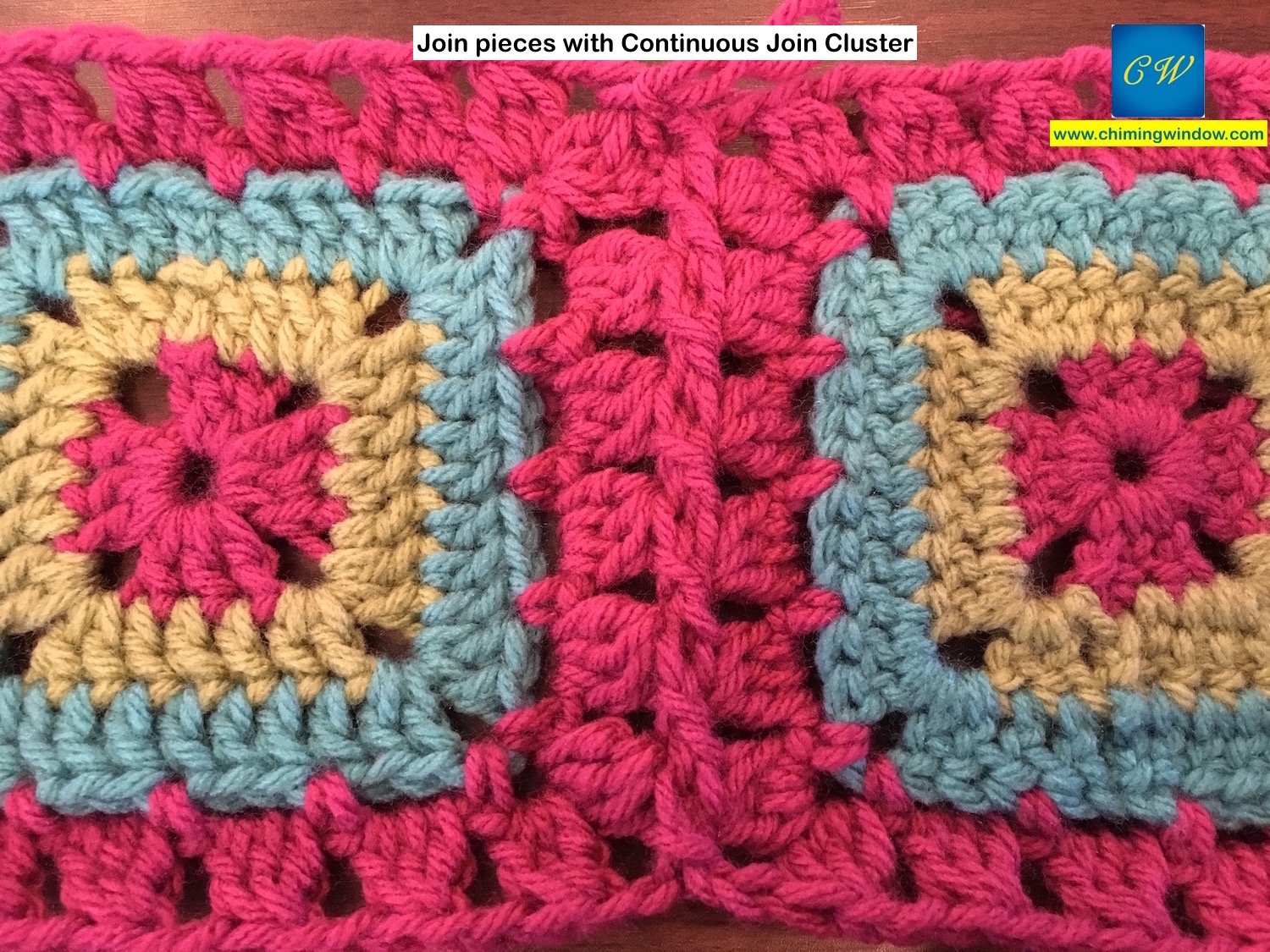 To join piece#3, work the piece on 3 sides with round #2 and join similarly.
To join 4th piece, work 2 sides with round 2 and join side 3 (same as above) to the corresponding side and similarly side 4 to its corresponding side.
For more seams, click on the following links –
SEAMS WITH NEEDLE –
http://chimingwindow.net/whip-stitch-seam-seams1-crochet13/
http://chimingwindow.net/back-loop-seam-seams2-crochet14/
http://chimingwindow.net/back-stitch-seam-seams3-crochet15/
http://chimingwindow.net/chain-stitch-seam-seams4-crochet16/
http://chimingwindow.net/mattress-seam-seams5-crochet17/
http://chimingwindow.net/skip-stitch-seam-seams6-crochet18/
http://chimingwindow.net/woven-seam-seams7-crochet19/
SEAMS WITH HOOK –
http://chimingwindow.net/sl-st-seam-slip-stitch-seams8-crochet20/
http://chimingwindow.net/sc-seam-seams9-crochet21/
http://chimingwindow.net/sc-ch-seam-seams10-crochet22/
http://chimingwindow.net/alternating-sl-st-seams-11-crochet23/
http://chimingwindow.net/flat-zipper-seam-seams-12-crochet24/
http://chimingwindow.net/cable-stitch-seam-seams13-crochet25/
http://chimingwindow.net/join-along-seam-seams14-crochet26/
http://chimingwindow.net/simulated-braid-seam-seams15-crochet27/ 
http://chimingwindow.net/dc-braid-seam-seams16-crochet28/
http://chimingwindow.net/flat-braid-seam-seams17-crochet29/
http://chimingwindow.net/tight-braid-seam-seams18-crochet30/
http://chimingwindow.net/scallops-seam-seams19-crochet31/
http://chimingwindow.net/lace-seam-seams20-crochet32/
http://chimingwindow.net/continuous-join-cluster-seams21-crochet33/