FLAT ZIPPER SEAM – 

(With Hook)

Due to the slip stitch used in joining, the stretch is restricted in this seam. It is good to use in the projects where stretch is not needed. The appearance is very neat both in front and back. For the example in this post, I have used it on the right side of the pieces to keep it decorative. While front of the pieces have chain stitch appearance, back has running stitch. The appearance of the seam remains flat.

Since I have decided to keep the seam decorative on the right side, Keep the pieces side by side with right side facing up.

Match the stitches and insert the hook in the back loop of the corner stitch of piece 1 and then piece 2. Refer below image. Pull the yarn for the seam through both the back loops and make slip stitch.
Make the slip stitch after pulling it through the 2 stitches. Continue with it by working only in the back loops of the stitches of both the pieces. Refer below image for this. You can either lock the yarn first with slip stitch in the corner or you can work without locking.
Refer below images for the appearance of back and front of the pieces after seam is finished.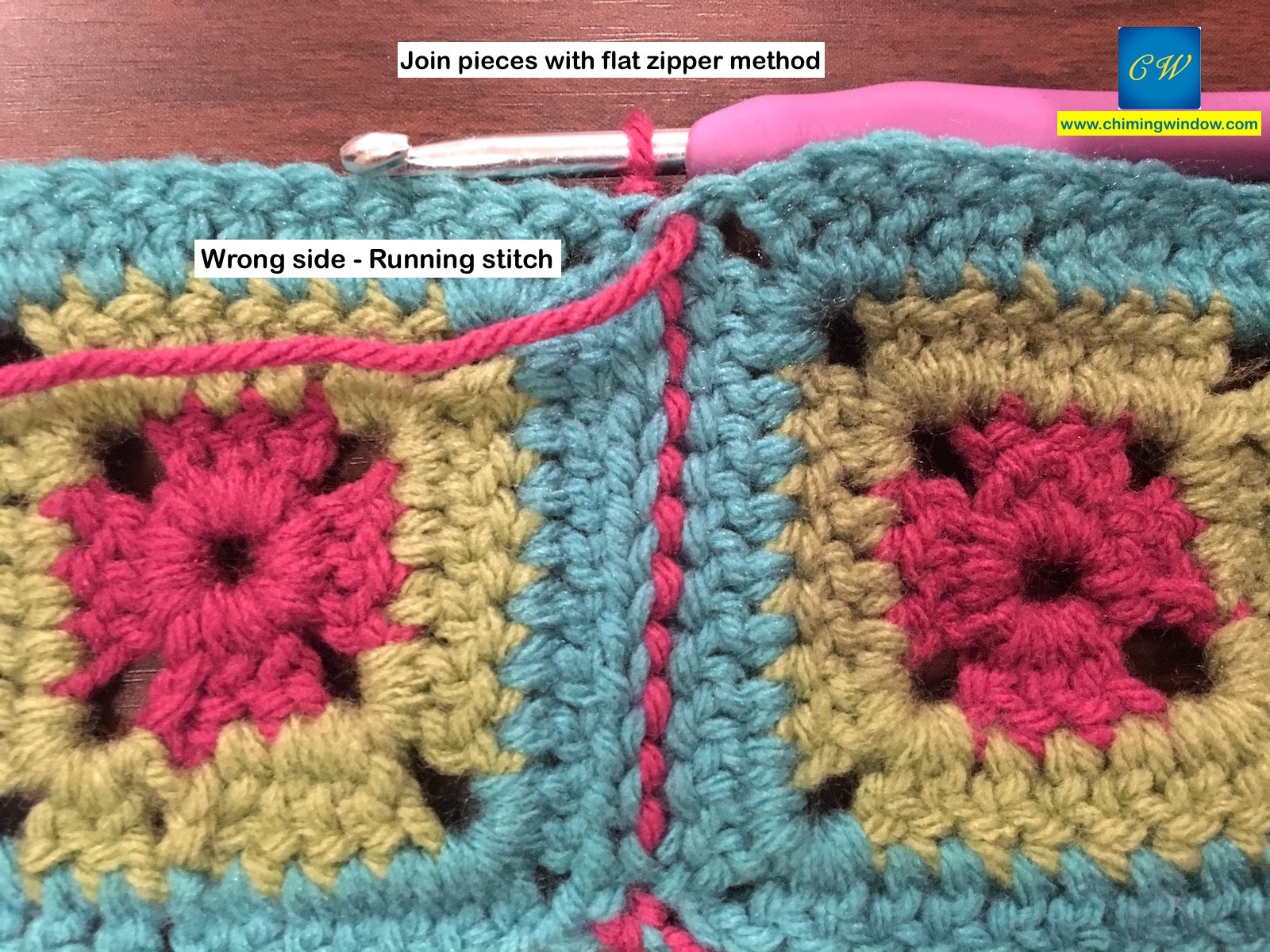 For more seams, click on the following links –
SEAMS WITH NEEDLE –
http://chimingwindow.net/whip-stitch-seam-seams1-crochet13/
http://chimingwindow.net/back-loop-seam-seams2-crochet14/
http://chimingwindow.net/back-stitch-seam-seams3-crochet15/
http://chimingwindow.net/chain-stitch-seam-seams4-crochet16/
http://chimingwindow.net/mattress-seam-seams5-crochet17/
http://chimingwindow.net/skip-stitch-seam-seams6-crochet18/
http://chimingwindow.net/woven-seam-seams7-crochet19/
SEAMS WITH HOOK –
http://chimingwindow.net/sl-st-seam-slip-stitch-seams8-crochet20/
http://chimingwindow.net/sc-seam-seams9-crochet21/
http://chimingwindow.net/sc-ch-seam-seams10-crochet22/
http://chimingwindow.net/alternating-sl-st-seams-11-crochet23/