SCALLOPS SEAM – (With Hook)
Scallops seam forms space and works both as functional and decorative seam. It is made from the right of the pieces.
Piece#1 – Join yarn n one corner with 1SC, 3CH, 1SC. * CH3, Skip 2 sts, make 1SC in next st.* Repeat * * all around.
All corner stitches will be 1SC, CH3, 1SC.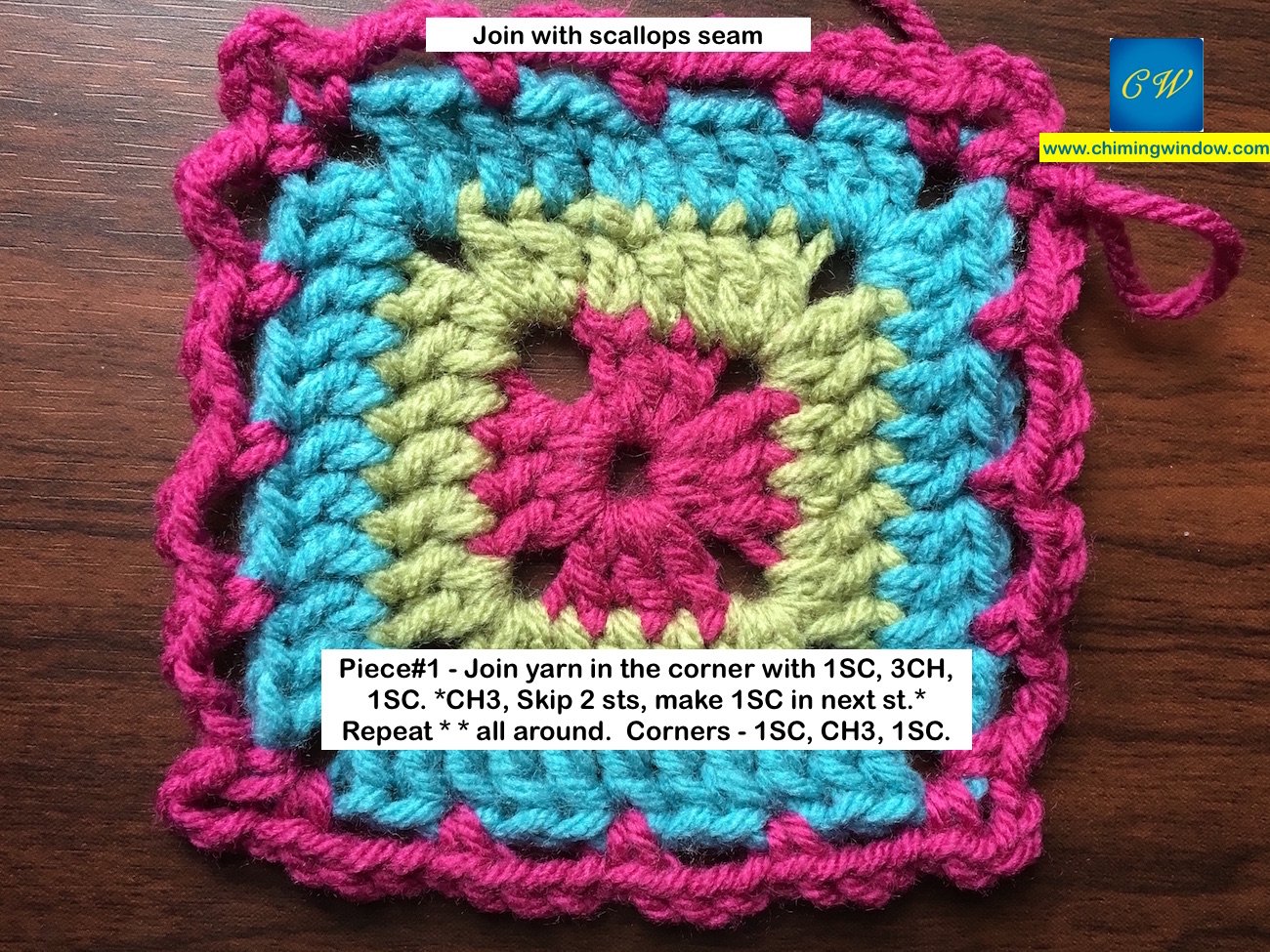 Piece#2 – Work 3 sides as piece #1, stip in the corner with 1SC, CH1. Insert the hook in the corner CH3 space of piece#1. Make SL ST, CH1, 1SC in the corner of piece#2.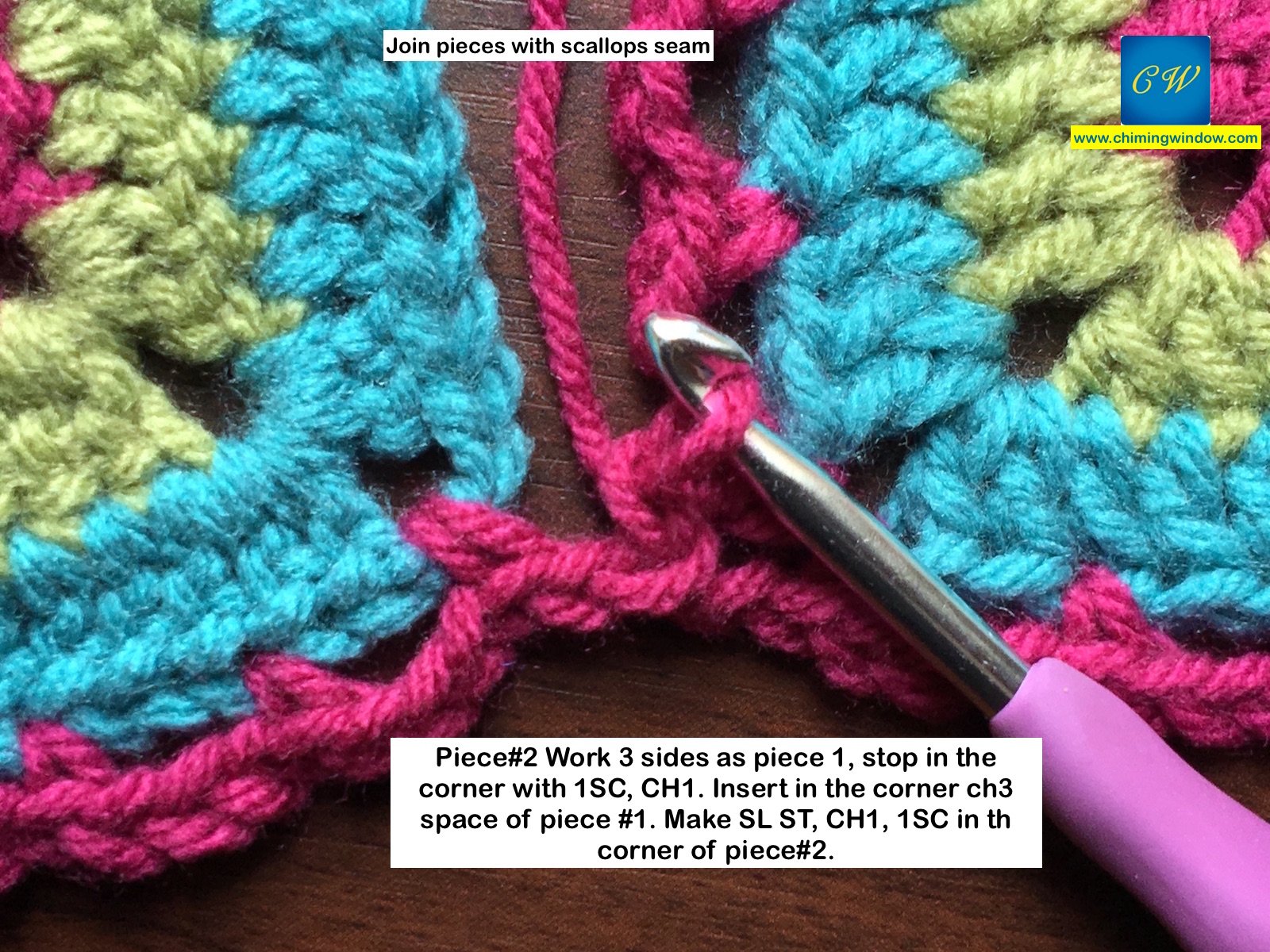 *CH1, insert in the middle stitch of the CH3 space of piece#1. Make SL ST, CH1. Skip 2 sms on piece#2, Make 1SC. * Repeat * * till the end.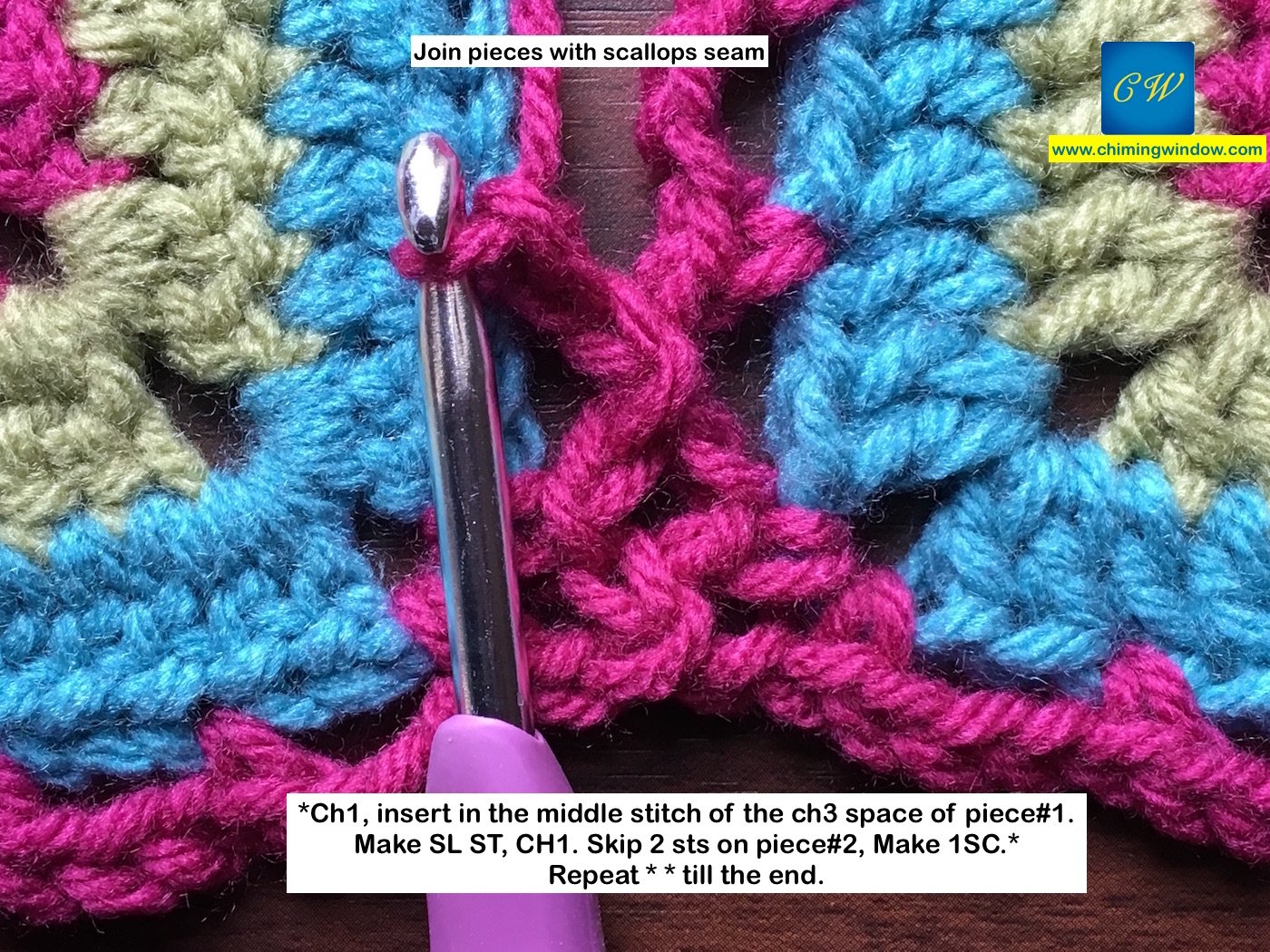 To join 3rd piece, work 3 sides and join to the corresponding side similarly.
To join 4th piece, work 2 sides and join similarly to the corresponding sides.
For more seams, click on the following links –
SEAMS WITH NEEDLE –
http://chimingwindow.net/whip-stitch-seam-seams1-crochet13/
http://chimingwindow.net/back-loop-seam-seams2-crochet14/
http://chimingwindow.net/back-stitch-seam-seams3-crochet15/
http://chimingwindow.net/chain-stitch-seam-seams4-crochet16/
http://chimingwindow.net/mattress-seam-seams5-crochet17/
http://chimingwindow.net/skip-stitch-seam-seams6-crochet18/
http://chimingwindow.net/woven-seam-seams7-crochet19/
SEAMS WITH HOOK –
http://chimingwindow.net/sl-st-seam-slip-stitch-seams8-crochet20/
http://chimingwindow.net/sc-seam-seams9-crochet21/
http://chimingwindow.net/sc-ch-seam-seams10-crochet22/
http://chimingwindow.net/alternating-sl-st-seams-11-crochet23/
http://chimingwindow.net/flat-zipper-seam-seams-12-crochet24/
http://chimingwindow.net/cable-stitch-seam-seams13-crochet25/
http://chimingwindow.net/join-along-seam-seams14-crochet26/
http://chimingwindow.net/simulated-braid-seam-seams15-crochet27/
http://chimingwindow.net/dc-braid-seam-seams16-crochet28/