DOUBLE CROCHET BRAID SEAM – (With Hook)
DC braid seam gives flat appearance and creates space between pieces with interlinked DC and chains. Follow the instructions to create this beautiful seam. It can be used on both granny squares and other pieces. You just need to make sure the number of stitches in the multiplication of 4 on each side. You can adjust this by increasing or decreasing stitches on the sides.
(My granny square had one stitch extra on 2 sides, which resulted in slight difference in the corners. Instead of 2 DC near each corner, i had 3 DCs in 2 of the corners.)
Join the yarn in the corner, CH1 and make  SC all around the granny square. Make 1SC, CH1, 1SC in each corner. Join with slip stitch in the end with the first SC. Chain 2 for round 2.
Round 2 – Make 1DC in the corner, CH3, 1DC in the corner. Make DC in the next ST. *CH2, skip 2 sts, make 2DC (one in each) in next 2 sts.* Repeat * * till the end. make 1DC, CH3, 1DC in each corner.
Complete piece #1 with round 2. Refer below image.
For piece #2, stop at the last corner of the 3rd side, while working round 2. Make 1DC, CH3 in the last corner of the side 3 and pull the hook out.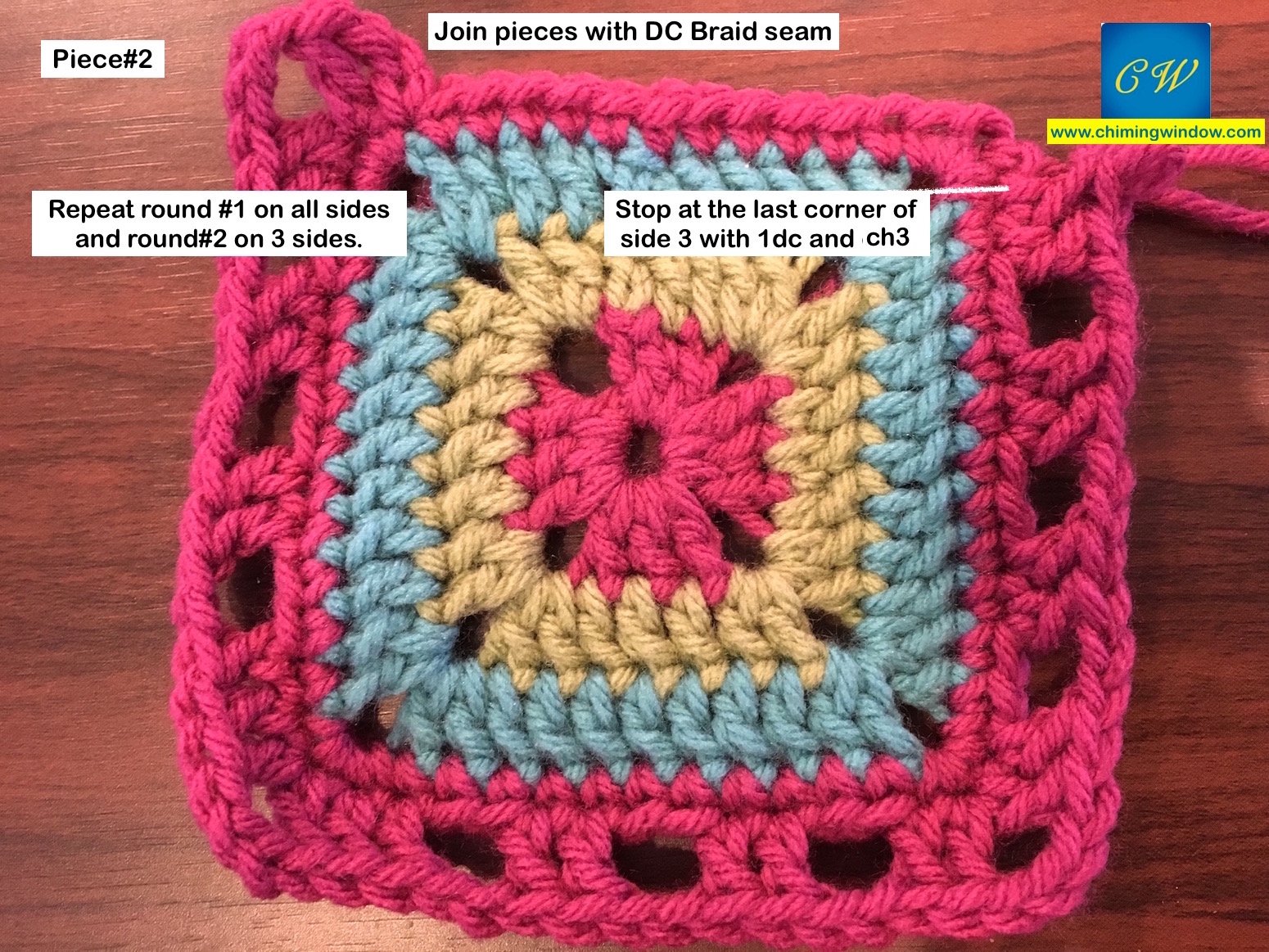 Insert the hook in the CH3 space of piece#1 and pull the loop, make 1DC in the corner space of piece#2. *Make DC in the next ST,CH2, pull the hook out of the loop, insert it in the next CH2 space of piece#1, made 1DC in the corresponding stitch of piece#2.* Repeat * * till the end.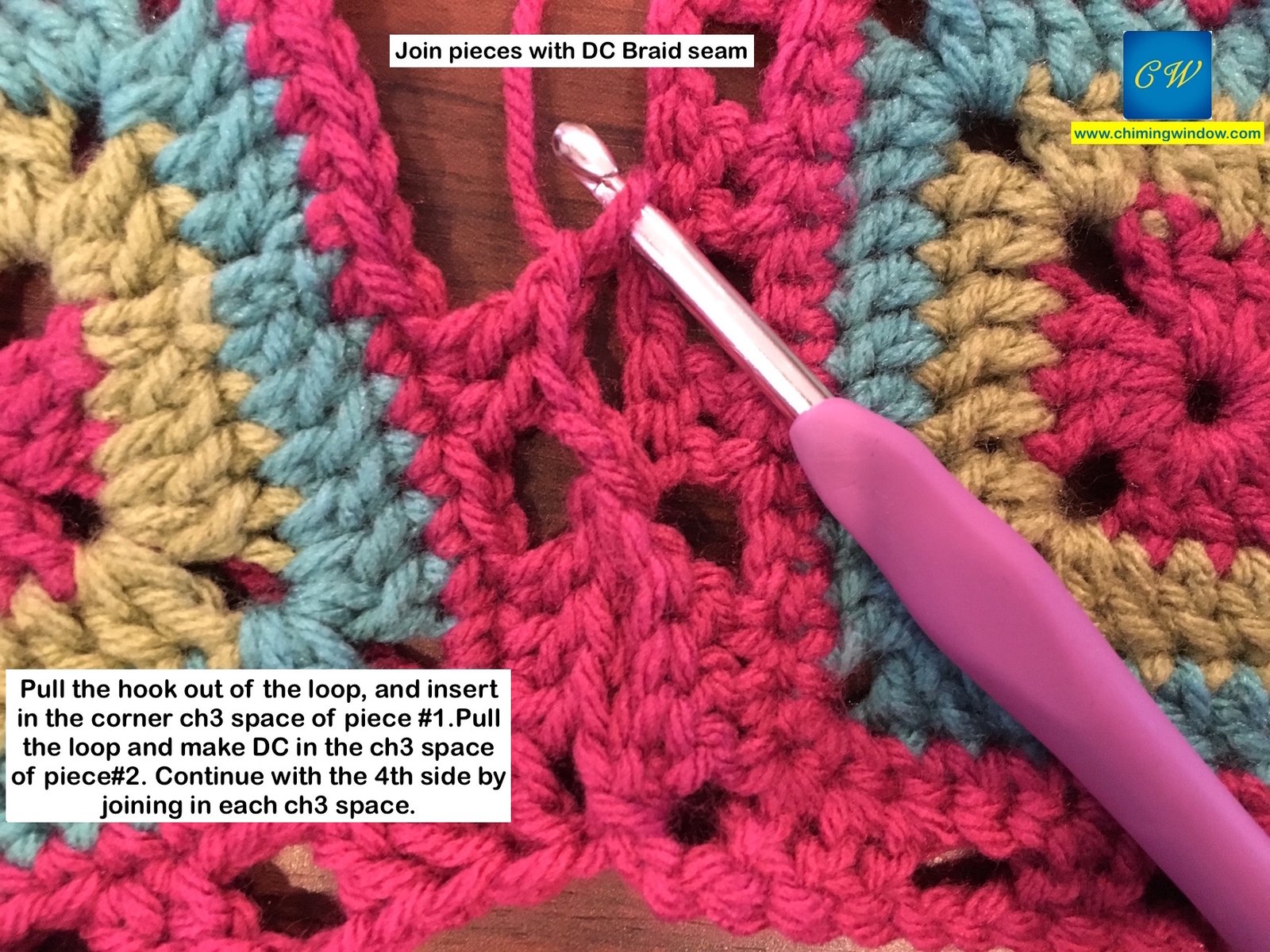 To join piece#3, work 3 sides of round 2 and join with the piece same as above.
To join 4th piece, work 2 sides with round 2 and join side 3 (same as above) to the corresponding side and similarly side 4 to its corresponding side.
DC braid seam requires more yarn than other seams, therefore you will have to keep this point in account while choosing your yarn too work this seam.
For more seams, click on the following links –
SEAMS WITH NEEDLE –
http://chimingwindow.net/whip-stitch-seam-seams1-crochet13/
http://chimingwindow.net/back-loop-seam-seams2-crochet14/
http://chimingwindow.net/back-stitch-seam-seams3-crochet15/
http://chimingwindow.net/chain-stitch-seam-seams4-crochet16/
http://chimingwindow.net/mattress-seam-seams5-crochet17/
http://chimingwindow.net/skip-stitch-seam-seams6-crochet18/
http://chimingwindow.net/woven-seam-seams7-crochet19/
SEAMS WITH HOOK –
http://chimingwindow.net/sl-st-seam-slip-stitch-seams8-crochet20/
http://chimingwindow.net/sc-seam-seams9-crochet21/
http://chimingwindow.net/sc-ch-seam-seams10-crochet22/
http://chimingwindow.net/alternating-sl-st-seams-11-crochet23/
http://chimingwindow.net/flat-zipper-seam-seams-12-crochet24/
http://chimingwindow.net/cable-stitch-seam-seams13-crochet25/
http://chimingwindow.net/join-along-seam-seams14-crochet26/
http://chimingwindow.net/simulated-braid-seam-seams15-crochet27/